Special Guest Trainers:
Mistress Wiley Wolfe
& Pup Void
Private Site - Central Alberta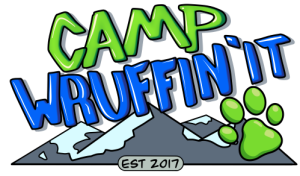 We're honoured to welcome so many amazing pet players to Camp every year.
Our mission is to promote pet play in Alberta and beyond. Camp Wruffin' It funds those efforts and brings our community together every year.
We'd love for you to join us for our 5th Annual Camp this year and see for yourself.

Come play with us!

"Wruffin' it was a fantastic experience

It was a lot of fun to run around and just be a pup amongst other like minded individuals

Definitely going to be doing it again"
"We had an amazing time,
Desert was able to live out a bunch of dreams too over the course of the event. I've been to several events, and the vibe created by Wruffin It is just awesome. It's hard to describe

Wruffin It felt far more welcome and open than others
That's the best I can do to describe it"

"Amazing! The venue staff were awesome hosts!

Looking forward to next year

(Almost have hubby convinced to join too 😁)"

"Wruffin' It was a fantastic weekend of running around naked
in my pup hood and attending kink and D/S workshops

Participated as a volunteer for the wax play workshop
the year before with Daddy Scott. Volunteering to help with the Service Pup Breakfast and tear down helped me feel like I was a valuable service puppy!"

"Wruffin' It has been an an amazing camp experience and something I greatly look forward to each year

Tonnes of fun events with tonnes of like minded and inclusive people

Can't wait to come pup-out again soon!"
"You think you're going to a kink camp, going to chase tail, to be chased - and then you find new friends who turn into family by the end of the weekend

The magic and awe builds everyday
It's a space out of time full of love, joy, and acceptance

I admit, I'm heavily biased, but wow - this is something different"

"Thanks for the amazing weekend

It felt good to be comfortable among friends and relax naked without worry

I really can't wait for next year! :D"

"Wruffin' It was a positive life changing experience

I felt so confident and accepted

I will definitely be going again"

"I love this camp!

It's one of my trips out of the year that I feel relaxed
and my brain turns off to have fun"

The best place to interact with us is twitter (retweets help *a lot*) and our Telegram Chat. Our WAG Out Loud channel has all our announcements and the Campfire Chat is open to current and former guests all year long.